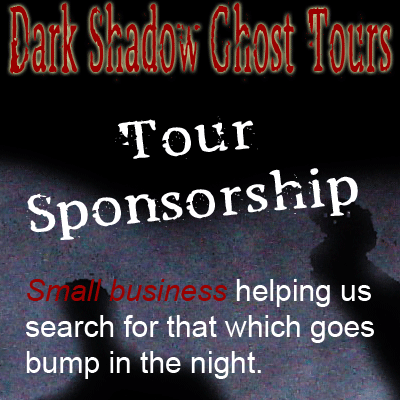 Become a Tour Sponsor or Advertiser
Dark Shadow Ghost Tours creates unique experiences for those who are looking for something different in entertainment. By combining historical education and scientific investigative experiences, we bring the public to different locations with reported paranormal activity. These are not haunted house tours, they are historical and paranormal investigative tours. Find out more about our tours.
During our tours, our guests will learn about the history of the location. We will also cover why the potential for paranormal activity exists, all of the reported paranormal claims and "Hot Spots", and how to investigate and document any paranormal experiences. Our staff will also demonstrate various investigation techniques and equipment, giving our guests the opportunity and experience of a real paranormal investigation.
We strive to bring the best of several worlds together, literally. We bring together the general public to research and experience the paranormal, and the business world to offer low cost advertising to our guests through the form of sponsorships and advertising opportunities.

Sponsorships help us to keep the costs of the tickets as low as possible. Some of the location we tour actually charge $50-$100 per person just to enter the premises. With the sponsorships, we are able to offset some of the entrance fees and provide transportation to the locations.
Advertising for our Murder/Mystery Dinners
Another opportunity for businesses to advertise with us is for our Murder/Mystery Dinners. Several times during the year, Dark Shadow Ghost Tours will produce a dinner that can range from 50 - 300 guests. Each of our tours and dinners is accompanies with a playbill program that each guest will receive. These playbills have spaces for advertising that we offer to business owners like you to help offset the costs of production. Besides the 1/4, 1/2, and Full page ads, we have other advertising opportunities as well for the dinners such as super sponsors and table sponsors.
Our 1/4 page ads are only $25.
Our 1/2 page ads are $50.
And our Full page ads are $100.
As an added bonus, everyone who advertises with us, will get a thank you sent out over our social networking system of over 10,000 fans.
Also, during our tours we distribute swag bags to all of our guests. If you are an advertiser on the tour, you can provide any literature about your business to our guests that you would like in our swag bags. We just ask that you have the information to us the day before the tour so that we can place it in the bags as we are making them.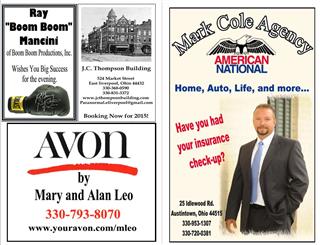 Advertising Application
How to Advertise or Become a Sponsor
You can become a tour sponsor (advertiser) simply by completing this form. A representative will be in contact with you to get more information about your business and/or make arrangemts to get promotional materials. You also have 2 options for payment; We can e-mail an invoice that you can pay with credit card, or we can mail you a regular invoice and you can send us a company check.
If you have any questions at all, please e-mail: info@darkshadowghosttours.com
Remember too, you are always welcome to join us as a guest at one of our events. We would love to have you join us!