The Irish Wake of Paddy O'Malley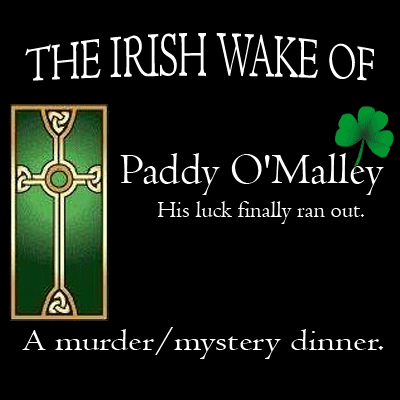 Come and celebrate the life of Paddy O'Malley at his favorite pub. All of his family and friends have been asked to come and share their stories and toast his life in a true Irish wake fashion.
Paddy's long time friend Seamus has been asked to make all of the preparations and arrangements for this festive night; however, as the evening unfolds, we find out that Paddy's luck had finally run out and there may have been some foul play involved in his demise. Not only has Seamus been charged with the celebration of his friend, he may even have to be the lead detective in his murder.
As you enter for the evening, you will be asked to greet and pay your respects to Paddy's window (Colleen) and take a few moments to spend some time with Paddy and his remains. The evening will continue as additional family and relatives arrive and everyone in attendance (including you) will play a role in this fascinating murder/mystery dinner.
Meet the Cast
Padraic "Paddy" O'Malley:
Paddy was a widely successful investment broker and had a net worth of more than 500 million dollars. He had many influential friends to include powerful politicians that are local, statewide, and national.
Colleen O'Malley:
Colleen is/was the wife of Paddy O'Malley and is extremely beautiful women that looks fifteen to twenty years younger than her age. Colleen has always been surrounded by rumors about her affairs, but nothing has ever been substantiated. She stands to be a very wealthy woman, because of her husband's death.
Branna D'arcy:
Branna is Paddy's doctor and life-long friend. She was extremely shocked when Paddy died of a heart attack since she knew he was in great physical and cardiovascular shape. He exercised everyday and passed all of his annual physicals with flying colors.
Fiona Callaghan:
Fiona is Paddy's longtime private secretary and confidant. It has been rumored for years that their association has been more unprofessional but no one knows for sure, or do they?
Seamus McClain:
Seamus is a celebrated and well respected police detective. Captain McClain has worked on and solved many high profile cases over the years and has a reputation of never giving up until the case is solved. Paddy's will has named Seamus as the master of ceremony for his wake.
Quinn O'Doyle:
Quinn is Paddy's cousin and although his wealth is due directly to the investment advice from Paddy, they were never as close as outsiders though. Quinn was a college graduate who dropped out of medical school in his third year for some unknown reason and now works as an EMT.
Reagan O'Malley:
Reagan is a sibling of Paddy who has never gotten over the perceived inequality of their father's will which left a much larger amount of money to Paddy.
Liam Nolan:
Liam is Paddy's longtime attorney and seemed to have an unusual amount of influence over Paddy's monetary and personal decisions.